'Duck Tape Capital of the World' Avon, Ohio
The relationship between Avon, Ohio, and some super-sticky tape is one that just won't let go. The city has knighted itself with one of the nation's most down-to-earth acclamations of purported global fame: "The Duck Tape Capital of the World." 
Situated in Lorain County, 20 miles west of Cleveland, Avon came by the designation courtesy of one of its largest employers, ShurTech Brands LLC, makers of a variety of multi-surface adhesives such as Duck Tape, Shurtape, Frog Tape and Painter's Mate Green. Th e company moved its headquarters to the city of just over 22,000 residents in 1996, and neither the business nor the municipality wasted much time leveraging the product's fame for mutual benefit.
The celebratory centerpiece of the Duck Tape capital is an annual, three-day Heritage Duck Tape Festival, held every Father's Day weekend. Now in its 13th year, the event draws a sizable crowd. "We hit 50,000 last year, despite some weather challenges," said Mayor Brian Jensen.
"It has been a positive and has grown each year," he noted. "It started with 10,000 to 15,000 (people) and has grown in a short time. We have schools and community businesses now that have taken it upon themselves, three months ahead of the festival, to get their parade floats ready."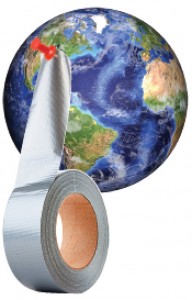 The city appreciates the attention, though the weekend "certainly is a little crazy," according to Jensen. "It is a huge feather in our cap to have a company that not only generates revenues but that exposes the community and gets our name used. They are a great community-based business."
Avon derives other benefits from the quintessentially blue collar attraction as well.
"This is a family activity," said the mayor, who was elected to office in November 2013. "I would compare it to a county fair atmosphere. We have rides and kids activities, and we try to cover the whole gamut. We are always looking for things that are family-oriented."
The bulk of the festivities are held at the recently expanded, 98-acre Veteran's Memorial Park, located a couple miles southwest of downtown. The event is so popular that the city is installing another park entrance to accommodate the ever-increasing traffic.
Avon also provides public safety services at the festival, including police, fire and rescue. In addition, "we make sure they have electric power, water and traffic control."
The community has come to expect the festival, and much of the town turns out to sit and watch the parade. Most of the festival-goers are local, but Jensen noted the attendance by visitors from contiguous states, particularly Indiana. "There is almost a following that goes along with what happens here," he said.
Attendees jump into duct tape-themed activities like life-size sculptures; an arts and crafts tent; a fashion show; and the crowning of "Duck Tape Dad of the Year." Fireworks, food vendors, family games, a scavenger hunt and live entertainment are staples.
The company also holds an annual scholarship contest, giving away $51,000 in cash prizes each year to young people who make clothing and other items out of the central product. Visit www.stuckatprom.com to view previous entries and to get step-by-step instructions how to create a duct tape corsage, clutch purse, bow tie and belt.
This year's theme is "What makes you proud to be an American?" so organizers are prepared to see a lot of red, white and blue Duck Tape creations in June.
Jensen has advice for municipalities looking to score a similarly successful attraction.
"Any time you can partner with a community-based business and brainstorm to get people out to see what is going on, that is a positive thing. Those kinds of things can make a community special, so any time you can work together, it's great."
At the Duck Tape Festival held each Father's Day weekend in Avon, Ohio, the "Duck Tape Capital of the World," a main event is the "Stuck at Prom" Scholarship Contest. Prizes go to the young people who designs and builds the most attractive prom wear out of Duck Tape. Pictured is one of the 2015 winners. (Photo provided)