Public Safety Software from Aladtec Showcased at EMS World Expo 2017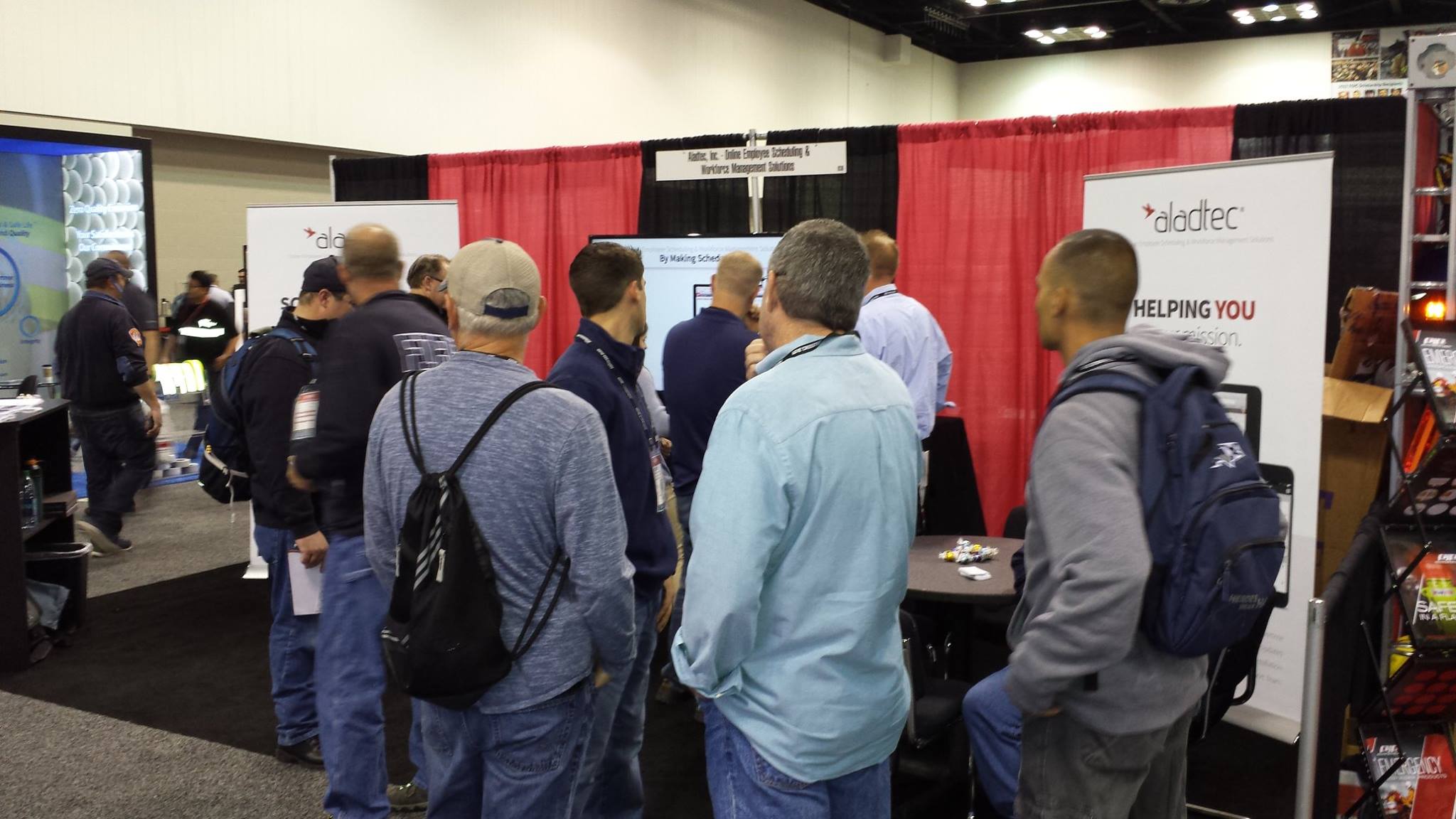 North America's largest EMS conference and trade show takes place
October 16th through the 20th in Las Vegas.
October 10, 2017 – This year, over 5,300 people from 44 countries are expected to attend EMS World Expo at the Las Vegas Convention Center in Nevada.  Hosted in partnership with the National Association of Emergency Medical Technicians (NAEMT), this progressive conference and huge trade show draws EMS leaders from all around the world.
There are eight educational track sessions offered with more than 150 individual sessions, and there will be numerous workshops devoted to concentrated areas of skills development. The expo hall offers the opportunity for attendees to evaluate the latest technologies, products, and services from over 360 vendors.
Public Safety software company Aladtec (booth #1855) will be offering guided demos of their popular online employee scheduling and workforce management system, also called Aladtec Specifically created for the Public Safety sector; this software helps EMS agencies manage complex shifts for their 24/7 coverage needs.
Beyond scheduling, Aladtec has many features to assist with other challenging administrative tasks – which are commonplace in Emergency Medical Services and other first responder organizations. There's document storage, a member discussion area, customizable reports, and an optional Time Clock kiosk.  Also, through Aladtec's Forms feature – customers are going green by moving department forms online.  Agency forms can be created, submitted, reviewed, and maintained within the Aladtec system.
After implementing Aladtec, customers state they are experiencing many benefits. Some benefits include increasing agency efficiency, saving time, saving money, improving staff morale, maintaining accuracy, and reducing human error. Well over 1,900 organizations throughout North America have a subscription to Aladtec's online employee scheduling and workforce management software, with nearly 120,000 people using the system.
Aladtec staff looks forward to seeing many customers from around the country at EMS World Expo 2017. Visitors to their booth (#1855) will see first-hand how the software works and they can sign up for a free 14-day Aladtec "try-it" demo, or they can choose a customized demo configured to their agency's specific needs.
Supporting Quotes from Aladtec Customers:
"I estimate we're saving about 100 hours a month by using Aladtec for staff scheduling and workforce management."

-Landon Churchill, Engineer/EMT, Colorado River Fire Rescue, Rifle, CO
"I am grateful for this scheduler – I don't want to go back to our old system ever."

-Stew Schmidt, Manager Muskwachees Ambulance Authority, Hobbema, Alberta
"We've been able to cut our overtime costs by around 30% since we began using Aladtec."

-Matt Leicester, former EMS Captain, Johnston County EMS, Smithfield, North Carolina
"Because we are a smaller volunteer service we really value the amount of time Aladtec saves us. I save as much as 20 hours a week now. It used to take me hours and hours to create the schedules, balance shifts and figure out who was available when. This online crew scheduling system is great for morale, it's easy to navigate, it's user-friendly, it provides great assistance in seeing a snapshot of what is going on, and it's a huge communication improvement for our department."

-Eric Strout, Director, G&H Ambulance Service, Glenburn, Maine
"To be honest I can't imagine what we would do without Aladtec for our staff scheduling and workforce management; I know my job would be a lot more difficult without it."

-Erin Iker, Operations Supervisor – Scheduling, Associated Ambulance, Alberta
"Aladtec also allows me to easily control overtime. For the first time ever, I was able to run an entire month's schedule with NO scheduled OT; this saved us about 25 hours of overtime."

-Koren V. Kanadanian, Director of Emergency Management, Providence College EMS, Providence, Rhode Island
About Aladtec: We proudly provide online employee scheduling and workforce management software to nearly 2,000 organizations, primarily within the Public Safety Sector. These customers count on Aladtec every day to help them save time and improve efficiency.  For information about the affordable industry-specific software options, or to try a free demo, please visit www.aladtec.com.